30 Day Reading Plans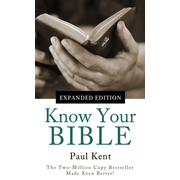 Know Your Bible-Expanded Edition: All 66 Books Books Explained and Applied - eBook
Paul Kent
Know Your Bible-Expanded Edition: All 66 Books Books Explained and Applied - eBook

Retail Price: 2.99
Our Price: 2.39

To buy it, click here:
http://ScriptureMenu.com/buy/41675EB

To view this item on your smartphone:

Click here to buy it!
Click to see all Know Your Bible: All 66 Books items!

READING EVERY DAY
To read for the next 30 days starting with today as day 1, bookmark
this link
.
Day 13 of 30: Read the whole New Testament
Today's Scripture Passage:

Day 13 of 30: New Testament Overview
Today's Scripture Passage:

---
READING EVERY WEEKDAY
(taking the weekends off)
Day 5 of 30: Read the whole New Testament
Today's Scripture Passage:

Day 5 of 30: New Testament Overview
Today's Scripture Passage: