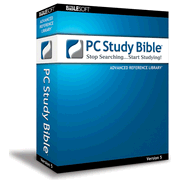 Biblesoft PC Study Bible 5.0: Advanced Reference Library on CD-ROM
A collection of 384 reference work volumes including Bible translations, commentaries, dictionaries, encyclopedias, Greek/Hebrew and other word study references. Version 5 adds even more Greek/Hebrew helps and includes a new Pastoral Helps Section. It's a total value of more than $5,000!
For Advanced Users Ready for the Next Step Forward
The Advanced Reference Library (ARL) in Version 5 delivers a significant step forward in new features and content. The features, described below, are the ones most requested by those who use PC Study Bible in daily, intensive study. The content in many cases is completely new and has never before been offered in any Biblesoft library or as an add-on.
Advanced original language features include:
Groves-Wheeler Westminster 4.0 Hebrew Morphology - you've been asking for it and now it's here, the Old Testament parsing information at your fingertips!
Wheeler's Hebrew Syntax Notes function just as they do in Greek. They are invaluable in helping to decipher theparsing codes and define how the Hebrew words work at a grammatical level.
Westminster Leningrad Codex, includes the Ketiv-Qere readings. This is the best electronic representation of the complete manuscript of Hebrew canon.
A Textual Commentary on the Greek New Testament, by Bruce Metzger, is the standard account of the compilation and transmission of the New Testament; it surveys ancient and newly-discovered manuscripts, and discusses both the science and art of textual criticism. Specific notes are included directly in your New Testament Interlinear as footnotes, at the exact locations where the text-committee's decisions are explained.
Additional top-notch content* now included: Dictionary of Latin and Greek Theological Terms, Exegetical Dictionary of New Testament, Balz & Schneider eds., in three volumes,the Pocket Dictionary for the Study of NT Greek, the Pocket Dictionary for the Study of Biblical Hebrew, Kittel's 10-volume Theological Dictionary of the New Testament (TDNT), 'Little Kittel' one volume, Wuest's Word Studies in the Greek New Testament, The Complete Jewish Bible & Jewish New Testament Commentary, and much more!
Click here for chart of contents.
System Requirements
IBM compatible 900 MHz Pentium III (1.3GHz P4 recommended)
512 MB RAM or higher; 768 MB recommended
Windows 2000, XP or Vista (may require Superuser or Administrator rights)
Microsoft Internet Explorer 6.0 or later
CD ROM drive (4X speed or higher recommended)
100 MB hard drive space required; 3 GB recommended
Mouse or compatible pointing device required
256 color display support, 800x600 minimum resolution (1024 x 768 recommended)
Retail Price:
599.95
Our Price: 384.95

To buy it, click here:
http://ScriptureMenu.com/buy/145119

To view this item on your smartphone:

Click here to buy it!
Click to see all Bible Software items!
Colossians 1:3-5
We always thank God, the Father of our Lord Jesus Christ, when we pray for you, since we heard of your faith in Christ Jesus and of the love that you have for all the saints, because of the hope laid up for you in heaven. Of this you have heard before in the word of the truth, the gospel,
Colossians 1:27
To them God chose to make known how great among the Gentiles are the riches of the glory of this mystery, which is Christ in you, the hope of glory.
Titus 2:11-13
For the grace of God has appeared, bringing salvation for all people, training us to renounce ungodliness and worldly passions, and to live self-controlled, upright, and godly lives in the present age, waiting for our blessed hope, the appearing of the glory of our great God and Savior Jesus Christ,