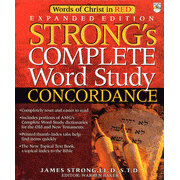 Strong's Complete Word Study Concordance, Expanded Edition--Book and CD-ROM
Edited by Warren Baker
Added 'muscle' for your 'workout' with God's Word! This indispensable resource offers you all the classic features of the popular reference---plus amplified word studies for key Greek and Hebrew words. This easy-to-read edition also includes a handy index of proper names that provides the meaning and first occurrence for each.
The Software is the E-Sword 7.1 that contains two full text Bibles, Strong's Concordance, a full Bibledictionary, and Torrey's Topical Bible as well as ready access to all Strong's numbers and definitions.

Retail Price: 34.99
Our Price: 23.99

To buy it, click here:
http://ScriptureMenu.com/buy/571263

To view this item on your smartphone:

Click here to buy it!
Click to see all Complete Word Study items!

Side Order: The Fruit of the Spirit
Galatians 5:22-23
Click

next to Bible references to open
Logos Bible Software Series X
directly to the passage.
Learn more
about linking directly to Logos and find other web sites that support integrated Bible study.