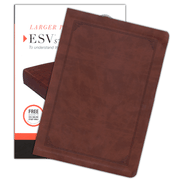 ESV Study Bible, Larger Print, TruTone, Walnut, Frame Design
Larger print—easy on the eyes!

The ESV Study Bible includes more than 20,000 notes, written specifically for the ESV Study Bible. These notes focus especially on understanding the meaning of the text, giving answers to frequently raised questions, and providing theological, historical, and archaeological background—all for the purpose of helping readers to understand the Bible in a deeper way.

The ESV Study Bible also provides a wealth of additional resources. Thus the introductions to each book include essential information about the author, date, and place of writing; an extensive chart of key themes; a summary of how the book fits in with the rest of the biblical storyline; a description of literary features; an outline of the book; and a large full-color map showing the setting of the book.

Another unique feature is the inclusion of over 50 helpful articles on topics such as the authority and truthfulness of the Bible, reading the Bible for application, the Bible in worship and prayer, the reliability of the biblical manuscripts, the relationship between archaeology and the Bible, an overview of biblical theology, and many more.

Other key resources include a system of 80,000 cross references and a concordance (which together facilitate easy location of important words, passages, and biblical themes). In addition, over 200 color charts, located throughout the Bible, provide clear, concise presentations of essential information.

Features:
Readable single-column Bible text in larger 10.6-point type; double-column notes in 8.55-point type
Section summaries are highlighted for easy location throughout the notes. Summaries provide an overview of each main section and correspond to the outline shown in the introduction for each book.
Over 200 full-color maps printed throughout make events and places in the Bible come to life.
Over 25,000 notes focus especially on understanding the Bible text and providing answers to frequently raised issues. Words from the Bible text are printed in bold for easy reference.
Over 80,000 cross-references provide easy access to key words, passages, and themes throughout the Bible.
Numerous diagrams bring fresh understanding to key places and events in the Bible, based on the best, most recent historical and archaeological research.
Over 200 charts provide concise, 'at a glance' summaries of important themes and teaching.
Free ESV Online Study Bible available with purchase
Finest quality European Bible paper
Durable Smyth-sewn binding
Presentation page
Family Record pages
Ribbon marker
Gold page edges
I'm reading my way all the way through this Bible this year. It's changing my life! More about my reading project here, and more about the ESV Study Bible at http://www.ESVStudyBible.org
Retail Price:
89.99
Our Price: 54.99

To buy it, click here:
http://ScriptureMenu.com/buy/523939

To view this item on your smartphone:

Click here to buy it!
Click to see all ESV Study Bible items!
Entrée: Verses About Long Life
1 Kings 3:14
And if you will walk in my ways, keeping my statutes and my commandments, as your father David walked, then I will lengthen your days."
Psalm 91:14-16
"Because he holds fast to me in love, I will deliver him;
I will protect him, because he knows my name.
When he calls to me, I will answer him;
I will be with him in trouble;
I will rescue him and honor him.
With long life I will satisfy him
and show him my salvation."
Proverbs 10:27
The fear of the Lord prolongs life,
but the years of the wicked will be short.
Ephesians 6:2-3
"Honor your father and mother" (this is the first commandment with a promise), "that it may go well with you and that you may live long in the land."
Click

next to Bible references to open
Logos Bible Software Series X
directly to the passage.
Learn more
about linking directly to Logos and find other web sites that support integrated Bible study.