Scripture Menu Links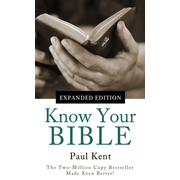 Know Your Bible-Expanded Edition: All 66 Books Books Explained and Applied - eBook
Paul Kent
Know Your Bible-Expanded Edition: All 66 Books Books Explained and Applied - eBook

Retail Price: 2.99
Our Price: 2.39

To buy it, click here:
http://ScriptureMenu.com/buy/41675EB

To view this item on your smartphone:

Click here to buy it!
Click to see all Know Your Bible: All 66 Books items!


We would like to thank these 17 sites that have linked to ScriptureMenu.com! (If you know of others, please let us know.)
---
Askaroo - From their mirror of the Open Directory Project


Better Bibles Blog - Wayne saw us in the ESV blog and apparently was impressed with the look of the page as much as the content!


Brian Mann Christian Ministries

ChristianMusic.About.com - The maintainer of this About.com site about Contemporary Christian Music added a link to us in her Devotionals section (the link is to that area; click "Christian Music" on the left once you get there to visit the main site)


ChristSites.com - A Christian search engine, and one of the first sites to list Scripture Menu


ESV Bible Blog - The ESV.org people have linked to us from a couple of places, but this was the one that caught people's attention.


feedjeff - Jeff included us in his "Top 10 Mashups" list (mashups are sites that consume Web services from other sites to create something new and, hopefully, interesting)


The Fifth Day Bible Study Board - I'm not too clear on what this board is an outgrowth of, but the post about this site is appreciated!


jerobins' Blinklist - Social bookmarking... I guess jerobins liked the page enough to share it with his friends!


Mungo's Mathoms - "Taste (and see)..."


Open Directory Project - A list of sites much like the Yahoo! Directory - compiled by many editors


ProgrammableWeb - This site lists services (like the ESV Web Service, which this site uses to obtain Scripture quotes) that Webmasters can use to create more interesting Web sites


Quotations Book Bible Quotations - No idea how the links get on the pages of this site, but the link appears on several other pages here as well!


Relationships Mart - Not quite sure why we made the "Unhealthy Relationships" page, but we'll take the link!


The Robinson House - It's great to be noticed! The "presentation" is all to help people remember the site when they need it...


StunningNew Info - This is another one that looks suspiciously auto-generated... but we enjoy being noticed, even by spiders!


Under God's Hands - Looks like Brian has added us to the "Links" box in his navigation area.