A Week of Reverend Fun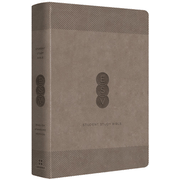 ESV Student Bible TruTone Taupe
The ESV Student Study Bible is ideally suited for students who are serious about God's Word—who want to learn more about what the Bible teaches and how the Bible applies to all of life.

With 16,000 clear, concise study notes, the ESV Student Study Bible provides numerous new features—including 1,000 'Did You Know?' facts, more than 100 new Bible character profiles, and 15 new topical articles. It also features a new glossary of key terms, more than 80 full-color maps and illustrations, an extensive concordance, 80,000 cross-references, and free access to the online Student Study Bible with the purchase of any print edition. These and many other features make it the most comprehensive, colorful, and content-rich student Bible available today. Suited to high school and college students, the ESV Student Study Bible is also a versatile resource for anyone engaged in serious study of God's Word.

Created by an outstanding team of more than 100 evangelical Christian scholars, teachers, and pastors, the ESV Student Study Bible is adapted from the highly acclaimed and best-selling ESV Study Bible. With numerous new features, the ESV Student Study Bible is an invaluable resource. For high school and college students, but equally for all students of the Bible—for everyone who loves to read and learn more about God's Word.

Features
12,000 clear, concise study notes
Introduction and timelines for each Bible book
More than 80 full-color maps and illustrations throughout
15 new topical articles
Nearly 900 'Did You Know' facts
120 new Bible character profiles
Two-colum format
Cross references
Glossary
Table of Weights and Measures
Concordance
Articles

God's Plan of Salvation
The Importance of the Church for Growing in Christ
Authority of the Bible
How to Read and Understand the Bible
How to Apply the Bible in Everyday Life
Important Christian Truths: Doctrine
The Bible and Christian Living: Ethics

Free access to ESV Online Student Study Bible (see enclosed card)
Presentation page
Family Record section
Ribbon marker
9.50' x 6.50' x 1.75'
Retail Price:
54.99
Our Price: 34.99

To buy it, click here:
http://ScriptureMenu.com/buy/528668

To view this item on your smartphone:

Click here to buy it!
Click to see all ESV Student Bible items!
These cartoons were published Monday, March 3, 2014 through Monday, March 10, 2014. For the latest Reverend Fun cartoon, visit
ReverendFun.com
!