Toon Fever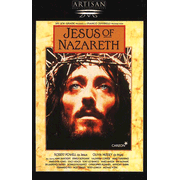 Jesus of Nazareth, DVD
Praised by critics and religious leaders worldwide, this epic movie accurately portrays Christ's life, death, and resurrection. Filmed on location in Palestine, it features an all-star cast including Sir Laurence Olivier, Anthony Quinn, Olivia Hussey, and Robert Powell as Jesus. Digitally mastered DVD features scene access, cast and crew information, and 'Living in Biblical Times' segment. Approx. 6 hours.

Retail Price: 29.99
Our Price: 10.99

To buy it, click here:
http://ScriptureMenu.com/buy/898834

To view this item on your smartphone:

Click here to buy it!
Click to see all Movie items!