include_once("ga.php");
Featured Verses This Week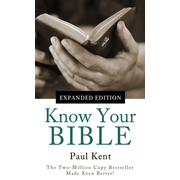 Know Your Bible-Expanded Edition: All 66 Books Books Explained and Applied - eBook
Paul Kent
Know Your Bible-Expanded Edition: All 66 Books Books Explained and Applied - eBook

Retail Price: 2.99
Our Price: 2.39

To buy it, click here:
http://ScriptureMenu.com/buy/41675EB

To view this item on your smartphone:

Click here to buy it!
Click to see all Know Your Bible: All 66 Books items!

Friday, April 29:
But the LORD sits enthroned forever; he has established his throne for justice, and he judges the world with righteousness; he judges the peoples with uprightness. —Psalm 9:7-8
Thursday, April 28:
"Whoever receives one such child in my name receives me, but whoever causes one of these little ones who believe in me to sin, it would be better for him to have a great millstone fastened around his neck and to be drowned in the depth of the sea." —Matthew 18:5-6
Wednesday, April 27:
The LORD is gracious and merciful, slow to anger and abounding in steadfast love. —Psalm 145:8
Tuesday, April 26:
A joyful heart is good medicine, but a crushed spirit dries up the bones. —Proverbs 17:22
Monday, April 25:
For I am sure that neither death nor life, nor angels nor rulers, nor things present nor things to come, nor powers, nor height nor depth, nor anything else in all creation, will be able to separate us from the love of God in Christ Jesus our Lord. —Romans 8:38-39
Sunday, April 24:
Jesus Christ is the same yesterday and today and forever. —Hebrews 13:8
Saturday, April 23:
And the Word became flesh and dwelt among us, and we have seen his glory, glory as of the only Son from the Father, full of grace and truth. —John 1:14
These scriptures are from the ESV Verse of the Day feed. Subscribe to it using your favorite RSS reader!