Featured Verses This Week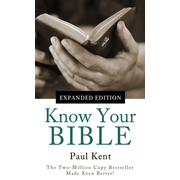 Know Your Bible-Expanded Edition: All 66 Books Books Explained and Applied - eBook
Paul Kent
Know Your Bible-Expanded Edition: All 66 Books Books Explained and Applied - eBook

Retail Price: 2.99
Our Price: 2.39

To buy it, click here:
http://ScriptureMenu.com/buy/41675EB

To view this item on your smartphone:

Click here to buy it!
Click to see all Know Your Bible: All 66 Books items!

Friday, November 28:
For it has been granted to you that for the sake of Christ you should not only believe in him but also suffer for his sake.... —Philippians 1:29
Thursday, November 27:
And Peter said to them, "Repent and be baptized every one of you in the name of Jesus Christ for the forgiveness of your sins, and you will receive the gift of the Holy Spirit." —Acts 2:38
Wednesday, November 26:
And my God will supply every need of yours according to his riches in glory in Christ Jesus. —Philippians 4:19
Tuesday, November 25:
But I say, walk by the Spirit, and you will not gratify the desires of the flesh. For the desires of the flesh are against the Spirit, and the desires of the Spirit are against the flesh, for these are opposed to each other, to keep you from doing the things you want to do. —Galatians 5:16-17
Monday, November 24:
And Jesus came and said to them, "All authority in heaven and on earth has been given to me. Go therefore and make disciples of all nations, baptizing them in the name of the Father and of the Son and of the Holy Spirit, teaching them to observe all that I have commanded you. And behold, I am with you always, to the end of the age." —Matthew 28:18-20
Sunday, November 23:
Therefore, stay awake, for you do not know on what day your Lord is coming. —Matthew 24:42
Saturday, November 22:
Finally, be strong in the Lord and in the strength of his might. —Ephesians 6:10
These scriptures are from the ESV Verse of the Day feed. Subscribe to it using your favorite RSS reader!