Featured Verses This Week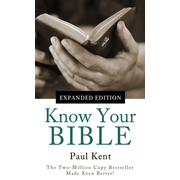 Know Your Bible-Expanded Edition: All 66 Books Books Explained and Applied - eBook
Paul Kent
Know Your Bible-Expanded Edition: All 66 Books Books Explained and Applied - eBook

Retail Price: 2.99
Our Price: 2.39

To buy it, click here:
http://ScriptureMenu.com/buy/41675EB

To view this item on your smartphone:

Click here to buy it!
Click to see all Know Your Bible: All 66 Books items!

Friday, December 19:
And now, O Lord GOD, you are God, and your words are true, and you have promised this good thing to your servant. —2 Samuel 7:28
Thursday, December 18:
"But it shall not be so among you. But whoever would be great among you must be your servant, and whoever would be first among you must be slave of all. For even the Son of Man came not to be served but to serve, and to give his life as a ransom for many." —Mark 10:43-45
Wednesday, December 17:
"And whenever you stand praying, forgive, if you have anything against anyone, so that your Father also who is in heaven may forgive you your trespasses." —Mark 11:25
Tuesday, December 16:
But we have this treasure in jars of clay, to show that the surpassing power belongs to God and not to us. We are afflicted in every way, but not crushed; perplexed, but not driven to despair; persecuted, but not forsaken; struck down, but not destroyed; always carrying in the body the death of Jesus, so that the life of Jesus may also be manifested in our bodies. —2 Corinthians 4:7-10
Monday, December 15:
So then, the law was our guardian until Christ came, in order that we might be justified by faith. But now that faith has come, we are no longer under a guardian, for in Christ Jesus you are all sons of God, through faith. —Galatians 3:24-26
Sunday, December 14:
Let not steadfast love and faithfulness forsake you; bind them around your neck; write them on the tablet of your heart. So you will find favor and good success in the sight of God and man. —Proverbs 3:3-4
Saturday, December 13:
For the wisdom of this world is folly with God. For it is written, "He catches the wise in their craftiness," and again, "The Lord knows the thoughts of the wise, that they are futile." —1 Corinthians 3:19-20
These scriptures are from the ESV Verse of the Day feed. Subscribe to it using your favorite RSS reader!