Featured Verses This Week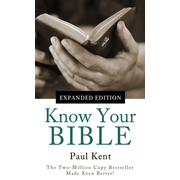 Know Your Bible-Expanded Edition: All 66 Books Books Explained and Applied - eBook
Paul Kent
Know Your Bible-Expanded Edition: All 66 Books Books Explained and Applied - eBook

Retail Price: 2.99
Our Price: 2.39

To buy it, click here:
http://ScriptureMenu.com/buy/41675EB

To view this item on your smartphone:

Click here to buy it!
Click to see all Know Your Bible: All 66 Books items!

Tuesday, April 15:
Why are you cast down, O my soul, and why are you in turmoil within me? Hope in God; for I shall again praise him, my salvation and my God. —Psalm 42:11
Monday, April 14:
"The Spirit of the Lord is upon me, because he has anointed me to proclaim good news to the poor. He has sent me to proclaim liberty to the captives and recovering of sight to the blind, to set at liberty those who are oppressed, to proclaim the year of the Lord's favor." —Luke 4:18-19
Sunday, April 13:
"You have heard that it was said, 'You shall love your neighbor and hate your enemy.' But I say to you, Love your enemies and pray for those who persecute you, so that you may be sons of your Father who is in heaven. For he makes his sun rise on the evil and on the good, and sends rain on the just and on the unjust." —Matthew 5:43-45
Saturday, April 12:
In the path of your judgments, O LORD, we wait for you; your name and remembrance are the desire of our soul. —Isaiah 26:8
Friday, April 11:
And we desire each one of you to show the same earnestness to have the full assurance of hope until the end, so that you may not be sluggish, but imitators of those who through faith and patience inherit the promises. —Hebrews 6:11-12
Thursday, April 10:
Truly, truly, I say to you, whoever believes has eternal life. —John 6:47
Wednesday, April 9:
Truly, truly, I say to you, whoever hears my word and believes him who sent me has eternal life. He does not come into judgment, but has passed from death to life. —John 5:24
These scriptures are from the ESV Verse of the Day feed. Subscribe to it using your favorite RSS reader!