include_once("ga.php");
Featured Verses This Week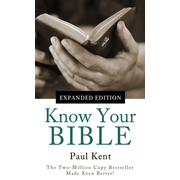 Know Your Bible-Expanded Edition: All 66 Books Books Explained and Applied - eBook
Paul Kent
Know Your Bible-Expanded Edition: All 66 Books Books Explained and Applied - eBook

Retail Price: 2.99
Our Price: 2.39

To buy it, click here:
http://ScriptureMenu.com/buy/41675EB

To view this item on your smartphone:

Click here to buy it!
Click to see all Know Your Bible: All 66 Books items!

Tuesday, February 28:
But the Lord is faithful. He will establish you and guard you against the evil one. —2 Thessalonians 3:3
Monday, February 27:
"Ask, and it will be given to you; seek, and you will find; knock, and it will be opened to you. For everyone who asks receives, and the one who seeks finds, and to the one who knocks it will be opened." —Matthew 7:7-8
Sunday, February 26:
For his anger is but for a moment, and his favor is for a lifetime. Weeping may tarry for the night, but joy comes with the morning. —Psalm 30:5
Saturday, February 25:
By the word of the LORD the heavens were made, and by the breath of his mouth all their host. —Psalm 33:6
Friday, February 24:
Therefore God has highly exalted him and bestowed on him the name that is above every name, so that at the name of Jesus every knee should bow, in heaven and on earth and under the earth, and every tongue confess that Jesus Christ is Lord, to the glory of God the Father. —Philippians 2:9-11
Thursday, February 23:
And it is God who establishes us with you in Christ, and has anointed us, and who has also put his seal on us and given us his Spirit in our hearts as a guarantee. —2 Corinthians 1:21-22
Wednesday, February 22:
So then, the law was our guardian until Christ came, in order that we might be justified by faith. But now that faith has come, we are no longer under a guardian, for in Christ Jesus you are all sons of God, through faith. —Galatians 3:24-26
These scriptures are from the ESV Verse of the Day feed. Subscribe to it using your favorite RSS reader!