include_once("ga.php");
Featured Verses This Week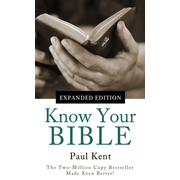 Know Your Bible-Expanded Edition: All 66 Books Books Explained and Applied - eBook
Paul Kent
Know Your Bible-Expanded Edition: All 66 Books Books Explained and Applied - eBook

Retail Price: 2.99
Our Price: 2.39

To buy it, click here:
http://ScriptureMenu.com/buy/41675EB

To view this item on your smartphone:

Click here to buy it!
Click to see all Know Your Bible: All 66 Books items!

Wednesday, October 26:
Like newborn infants, long for the pure spiritual milk, that by it you may grow up into salvation-- if indeed you have tasted that the Lord is good. —1 Peter 2:2-3
Tuesday, October 25:
So if the Son sets you free, you will be free indeed. —John 8:36
Monday, October 24:
My son, do not forget my teaching, but let your heart keep my commandments, for length of days and years of life and peace they will add to you. —Proverbs 3:1-2
Sunday, October 23:
For if we live, we live to the Lord, and if we die, we die to the Lord. So then, whether we live or whether we die, we are the Lord's. —Romans 14:8
Saturday, October 22:
Finally, all of you, have unity of mind, sympathy, brotherly love, a tender heart, and a humble mind. Do not repay evil for evil or reviling for reviling, but on the contrary, bless, for to this you were called, that you may obtain a blessing. —1 Peter 3:8-9
Friday, October 21:
Every good gift and every perfect gift is from above, coming down from the Father of lights with whom there is no variation or shadow due to change. Of his own will he brought us forth by the word of truth, that we should be a kind of firstfruits of his creatures. —James 1:17-18
Thursday, October 20:
But we have this treasure in jars of clay, to show that the surpassing power belongs to God and not to us. We are afflicted in every way, but not crushed; perplexed, but not driven to despair; persecuted, but not forsaken; struck down, but not destroyed; always carrying in the body the death of Jesus, so that the life of Jesus may also be manifested in our bodies. —2 Corinthians 4:7-10
These scriptures are from the ESV Verse of the Day feed. Subscribe to it using your favorite RSS reader!