Featured Verses This Week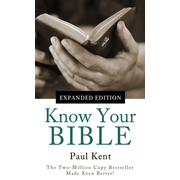 Know Your Bible-Expanded Edition: All 66 Books Books Explained and Applied - eBook
Paul Kent
Know Your Bible-Expanded Edition: All 66 Books Books Explained and Applied - eBook

Retail Price: 2.99
Our Price: 2.39

To buy it, click here:
http://ScriptureMenu.com/buy/41675EB

To view this item on your smartphone:

Click here to buy it!
Click to see all Know Your Bible: All 66 Books items!

Monday, September 1:
Because, if you confess with your mouth that Jesus is Lord and believe in your heart that God raised him from the dead, you will be saved. For with the heart one believes and is justified, and with the mouth one confesses and is saved. —Romans 10:9-10
Sunday, August 31:
The God who made the world and everything in it, being Lord of heaven and earth, does not live in temples made by man, nor is he served by human hands, as though he needed anything, since he himself gives to all mankind life and breath and everything. —Acts 17:24-25
Saturday, August 30:
You also, be patient. Establish your hearts, for the coming of the Lord is at hand. —James 5:8
Friday, August 29:
He who testifies to these things says, "Surely I am coming soon." Amen. Come, Lord Jesus! —Revelation 22:20
Thursday, August 28:
Be angry and do not sin; do not let the sun go down on your anger, and give no opportunity to the devil. —Ephesians 4:26-27
Wednesday, August 27:
Therefore take up the whole armor of God, that you may be able to withstand in the evil day, and having done all, to stand firm. —Ephesians 6:13
Tuesday, August 26:
But we have this treasure in jars of clay, to show that the surpassing power belongs to God and not to us. We are afflicted in every way, but not crushed; perplexed, but not driven to despair; persecuted, but not forsaken; struck down, but not destroyed; always carrying in the body the death of Jesus, so that the life of Jesus may also be manifested in our bodies. —2 Corinthians 4:7-10
These scriptures are from the ESV Verse of the Day feed. Subscribe to it using your favorite RSS reader!