include_once("ga.php");
Featured Verses This Week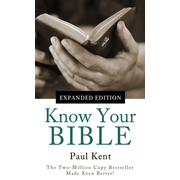 Know Your Bible-Expanded Edition: All 66 Books Books Explained and Applied - eBook
Paul Kent
Know Your Bible-Expanded Edition: All 66 Books Books Explained and Applied - eBook

Retail Price: 2.99
Our Price: 2.39

To buy it, click here:
http://ScriptureMenu.com/buy/41675EB

To view this item on your smartphone:

Click here to buy it!
Click to see all Know Your Bible: All 66 Books items!

Friday, December 9:
But I say, walk by the Spirit, and you will not gratify the desires of the flesh. For the desires of the flesh are against the Spirit, and the desires of the Spirit are against the flesh, for these are opposed to each other, to keep you from doing the things you want to do. —Galatians 5:16-17
Thursday, December 8:
Now may the God of peace himself sanctify you completely, and may your whole spirit and soul and body be kept blameless at the coming of our Lord Jesus Christ. He who calls you is faithful; he will surely do it. —1 Thessalonians 5:23-24
Wednesday, December 7:
This is the day that the LORD has made; let us rejoice and be glad in it. —Psalm 118:24
Tuesday, December 6:
"My sheep hear my voice, and I know them, and they follow me. I give them eternal life, and they will never perish, and no one will snatch them out of my hand. My Father, who has given them to me, is greater than all, and no one is able to snatch them out of the Father's hand. I and the Father are one." —John 10:27-30
Monday, December 5:
So we do not lose heart. Though our outer self is wasting away, our inner self is being renewed day by day. —2 Corinthians 4:16
Sunday, December 4:
"For the Son of Man came to seek and to save the lost." —Luke 19:10
Saturday, December 3:
For to set the mind on the flesh is death, but to set the mind on the Spirit is life and peace. —Romans 8:6
These scriptures are from the ESV Verse of the Day feed. Subscribe to it using your favorite RSS reader!