Featured Verses This Week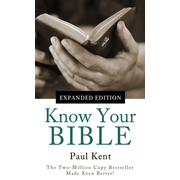 Know Your Bible-Expanded Edition: All 66 Books Books Explained and Applied - eBook
Paul Kent
Know Your Bible-Expanded Edition: All 66 Books Books Explained and Applied - eBook

Retail Price: 2.99
Our Price: 2.39

To buy it, click here:
http://ScriptureMenu.com/buy/41675EB

To view this item on your smartphone:

Click here to buy it!
Click to see all Know Your Bible: All 66 Books items!

Thursday, October 30:
Evening and morning and at noon I utter my complaint and moan, and he hears my voice. —Psalm 55:17
Wednesday, October 29:
The LORD will keep you from all evil; he will keep your life. The LORD will keep your going out and your coming in from this time forth and forevermore. —Psalm 121:7-8
Tuesday, October 28:
Whoever is slow to anger is better than the mighty, and he who rules his spirit than he who takes a city. —Proverbs 16:32
Monday, October 27:
And those who belong to Christ Jesus have crucified the flesh with its passions and desires. —Galatians 5:24
Sunday, October 26:
"Blessed are you when others revile you and persecute you and utter all kinds of evil against you falsely on my account. Rejoice and be glad, for your reward is great in heaven, for so they persecuted the prophets who were before you." —Matthew 5:11-12
Saturday, October 25:
But the Lord GOD helps me; therefore I have not been disgraced; therefore I have set my face like a flint, and I know that I shall not be put to shame. —Isaiah 50:7
Friday, October 24:
Do not be conformed to this world, but be transformed by the renewal of your mind, that by testing you may discern what is the will of God, what is good and acceptable and perfect. —Romans 12:2
These scriptures are from the ESV Verse of the Day feed. Subscribe to it using your favorite RSS reader!