include_once("ga.php");
Featured Verses This Week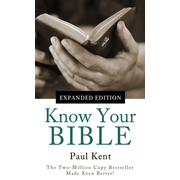 Know Your Bible-Expanded Edition: All 66 Books Books Explained and Applied - eBook
Paul Kent
Know Your Bible-Expanded Edition: All 66 Books Books Explained and Applied - eBook

Retail Price: 2.99
Our Price: 2.39

To buy it, click here:
http://ScriptureMenu.com/buy/41675EB

To view this item on your smartphone:

Click here to buy it!
Click to see all Know Your Bible: All 66 Books items!

Monday, June 27:
And now I commend you to God and to the word of his grace, which is able to build you up and to give you the inheritance among all those who are sanctified. —Acts 20:32
Sunday, June 26:
Jesus said to him, "Have you believed because you have seen me? Blessed are those who have not seen and yet have believed." —John 20:29
Saturday, June 25:
If I speak in the tongues of men and of angels, but have not love, I am a noisy gong or a clanging cymbal. And if I have prophetic powers, and understand all mysteries and all knowledge, and if I have all faith, so as to remove mountains, but have not love, I am nothing. If I give away all I have, and if I deliver up my body to be burned, but have not love, I gain nothing. —1 Corinthians 13:1-3
Friday, June 24:
You also, be patient. Establish your hearts, for the coming of the Lord is at hand. —James 5:8
Thursday, June 23:
Even though I walk through the valley of the shadow of death, I will fear no evil, for you are with me; your rod and your staff, they comfort me. —Psalm 23:4
Wednesday, June 22:
"'And you shall love the Lord your God with all your heart and with all your soul and with all your mind and with all your strength.' The second is this: 'You shall love your neighbor as yourself.' There is no other commandment greater than these." —Mark 12:30-31
Tuesday, June 21:
But for me it is good to be near God; I have made the Lord GOD my refuge, that I may tell of all your works. —Psalm 73:28
These scriptures are from the ESV Verse of the Day feed. Subscribe to it using your favorite RSS reader!