include_once("ga.php");
Featured Verses This Week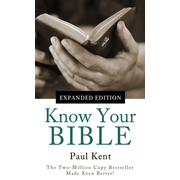 Know Your Bible-Expanded Edition: All 66 Books Books Explained and Applied - eBook
Paul Kent
Know Your Bible-Expanded Edition: All 66 Books Books Explained and Applied - eBook

Retail Price: 2.99
Our Price: 2.39

To buy it, click here:
http://ScriptureMenu.com/buy/41675EB

To view this item on your smartphone:

Click here to buy it!
Click to see all Know Your Bible: All 66 Books items!

Thursday, November 23:
This God--his way is perfect; the word of the LORD proves true; he is a shield for all those who take refuge in him. —2 Samuel 22:31
Wednesday, November 22:
For if we live, we live to the Lord, and if we die, we die to the Lord. So then, whether we live or whether we die, we are the Lord's. —Romans 14:8
Tuesday, November 21:
See that no one repays anyone evil for evil, but always seek to do good to one another and to everyone. —1 Thessalonians 5:15
Monday, November 20:
Be sober-minded; be watchful. Your adversary the devil prowls around like a roaring lion, seeking someone to devour. Resist him, firm in your faith, knowing that the same kinds of suffering are being experienced by your brotherhood throughout the world. —1 Peter 5:8-9
Sunday, November 19:
Whoever walks with the wise becomes wise, but the companion of fools will suffer harm. —Proverbs 13:20
Saturday, November 18:
Do not speak evil against one another, brothers. The one who speaks against a brother or judges his brother, speaks evil against the law and judges the law. But if you judge the law, you are not a doer of the law but a judge. There is only one lawgiver and judge, he who is able to save and to destroy. But who are you to judge your neighbor? —James 4:11-12
Friday, November 17:
Bless the LORD, O my soul! O LORD my God, you are very great! You are clothed with splendor and majesty, covering yourself with light as with a garment, stretching out the heavens like a tent. —Psalm 104:1-2
These scriptures are from the ESV Verse of the Day feed. Subscribe to it using your favorite RSS reader!