include_once("ga.php");
Featured Verses This Week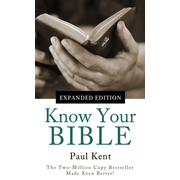 Know Your Bible-Expanded Edition: All 66 Books Books Explained and Applied - eBook
Paul Kent
Know Your Bible-Expanded Edition: All 66 Books Books Explained and Applied - eBook

Retail Price: 2.99
Our Price: 2.39

To buy it, click here:
http://ScriptureMenu.com/buy/41675EB

To view this item on your smartphone:

Click here to buy it!
Click to see all Know Your Bible: All 66 Books items!

Sunday, April 23:
And I am sure of this, that he who began a good work in you will bring it to completion at the day of Jesus Christ. —Philippians 1:6
Saturday, April 22:
Do not lie to one another, seeing that you have put off the old self with its practices and have put on the new self, which is being renewed in knowledge after the image of its creator. —Colossians 3:9-10
Friday, April 21:
But do not overlook this one fact, beloved, that with the Lord one day is as a thousand years, and a thousand years as one day. —2 Peter 3:8
Thursday, April 20:
In you, O LORD, do I take refuge; let me never be put to shame; in your righteousness deliver me! Incline your ear to me; rescue me speedily! Be a rock of refuge for me, a strong fortress to save me! —Psalm 31:1-2
Wednesday, April 19:
If then you have been raised with Christ, seek the things that are above, where Christ is, seated at the right hand of God. Set your minds on things that are above, not on things that are on earth. —Colossians 3:1-2
Tuesday, April 18:
For I am not ashamed of the gospel, for it is the power of God for salvation to everyone who believes, to the Jew first and also to the Greek. For in it the righteousness of God is revealed from faith for faith, as it is written, "The righteous shall live by faith." —Romans 1:16-17
Monday, April 17:
"This is my commandment, that you love one another as I have loved you. Greater love has no one than this, that someone lay down his life for his friends. You are my friends if you do what I command you." —John 15:12-14
These scriptures are from the ESV Verse of the Day feed. Subscribe to it using your favorite RSS reader!