Featured Verses This Week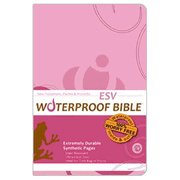 ESV Waterproof Bible New Testament with Psalms & Proverbs, Pink/Brown Floral
ESV Waterproof Bible New Testament with Psalms & Proverbs, Pink/Brown Floral

Retail Price: 24.95
Our Price: 17.99

To buy it, click here:
http://ScriptureMenu.com/buy/690175

To view this item on your smartphone:

Click here to buy it!
Click to see all ESV Waterproof Bible items!

Thursday, December 5:
But the LORD sits enthroned forever; he has established his throne for justice, and he judges the world with righteousness; he judges the peoples with uprightness. —Psalm 9:7-8
Wednesday, December 4:
So if you are offering your gift at the altar and there remember that your brother has something against you, leave your gift there before the altar and go. First be reconciled to your brother, and then come and offer your gift. —Matthew 5:23-24
Tuesday, December 3:
Such is the confidence that we have through Christ toward God. Not that we are sufficient in ourselves to claim anything as coming from us, but our sufficiency is from God, who has made us competent to be ministers of a new covenant, not of the letter but of the Spirit. For the letter kills, but the Spirit gives life. —2 Corinthians 3:4-6
Monday, December 2:
And we desire each one of you to show the same earnestness to have the full assurance of hope until the end, so that you may not be sluggish, but imitators of those who through faith and patience inherit the promises. —Hebrews 6:11-12
Sunday, December 1:
Before destruction a man's heart is haughty, but humility comes before honor. —Proverbs 18:12
Saturday, November 30:
Listen to advice and accept instruction, that you may gain wisdom in the future. —Proverbs 19:20
Friday, November 29:
"In all things I have shown you that by working hard in this way we must help the weak and remember the words of the Lord Jesus, how he himself said, 'It is more blessed to give than to receive.'" —Acts 20:35
These scriptures are from the ESV Verse of the Day feed. Subscribe to it using your favorite RSS reader!