Featured Verses This Week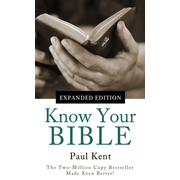 Know Your Bible-Expanded Edition: All 66 Books Books Explained and Applied - eBook
Paul Kent
Know Your Bible-Expanded Edition: All 66 Books Books Explained and Applied - eBook

Retail Price: 2.99
Our Price: 2.39

To buy it, click here:
http://ScriptureMenu.com/buy/41675EB

To view this item on your smartphone:

Click here to buy it!
Click to see all Know Your Bible: All 66 Books items!

Tuesday, April 22:
For I am not ashamed of the gospel, for it is the power of God for salvation to everyone who believes, to the Jew first and also to the Greek. For in it the righteousness of God is revealed from faith for faith, as it is written, "The righteous shall live by faith." —Romans 1:16-17
Monday, April 21:
Do not toil to acquire wealth; be discerning enough to desist. When your eyes light on it, it is gone, for suddenly it sprouts wings, flying like an eagle toward heaven. —Proverbs 23:4-5
Sunday, April 20:
Love is patient and kind; love does not envy or boast; it is not arrogant or rude. It does not insist on its own way; it is not irritable or resentful; it does not rejoice at wrongdoing, but rejoices with the truth. —1 Corinthians 13:4-6
Saturday, April 19:
Whoever exalts himself will be humbled, and whoever humbles himself will be exalted. —Matthew 23:12
Friday, April 18:
But love your enemies, and do good, and lend, expecting nothing in return, and your reward will be great, and you will be sons of the Most High, for he is kind to the ungrateful and the evil. Be merciful, even as your Father is merciful. —Luke 6:35-36
Thursday, April 17:
Be angry and do not sin; do not let the sun go down on your anger, and give no opportunity to the devil. —Ephesians 4:26-27
Wednesday, April 16:
"I am the living bread that came down from heaven. If anyone eats of this bread, he will live forever. And the bread that I will give for the life of the world is my flesh." —John 6:51
These scriptures are from the ESV Verse of the Day feed. Subscribe to it using your favorite RSS reader!