Featured Verses This Week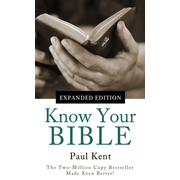 Know Your Bible-Expanded Edition: All 66 Books Books Explained and Applied - eBook
Paul Kent
Know Your Bible-Expanded Edition: All 66 Books Books Explained and Applied - eBook

Retail Price: 2.99
Our Price: 2.39

To buy it, click here:
http://ScriptureMenu.com/buy/41675EB

To view this item on your smartphone:

Click here to buy it!
Click to see all Know Your Bible: All 66 Books items!

Sunday, February 7:
In peace I will both lie down and sleep; for you alone, O LORD, make me dwell in safety. —Psalm 4:8
Saturday, February 6:
Like newborn infants, long for the pure spiritual milk, that by it you may grow up into salvation-- if indeed you have tasted that the Lord is good. —1 Peter 2:2-3
Friday, February 5:
Who among you fears the LORD and obeys the voice of his servant? Let him who walks in darkness and has no light trust in the name of the LORD and rely on his God. —Isaiah 50:10
Thursday, February 4:
Let the words of my mouth and the meditation of my heart be acceptable in your sight, O LORD, my rock and my redeemer. —Psalm 19:14
Wednesday, February 3:
Let not steadfast love and faithfulness forsake you; bind them around your neck; write them on the tablet of your heart. So you will find favor and good success in the sight of God and man. —Proverbs 3:3-4
Tuesday, February 2:
Every good gift and every perfect gift is from above, coming down from the Father of lights with whom there is no variation or shadow due to change. Of his own will he brought us forth by the word of truth, that we should be a kind of firstfruits of his creatures. —James 1:17-18
Monday, February 1:
"Blessed be the LORD who has given rest to his people Israel, according to all that he promised. Not one word has failed of all his good promise, which he spoke by Moses his servant." —1 Kings 8:56
These scriptures are from the ESV Verse of the Day feed. Subscribe to it using your favorite RSS reader!