Featured Verses This Week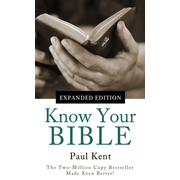 Know Your Bible-Expanded Edition: All 66 Books Books Explained and Applied - eBook
Paul Kent
Know Your Bible-Expanded Edition: All 66 Books Books Explained and Applied - eBook

Retail Price: 2.99
Our Price: 2.39

To buy it, click here:
http://ScriptureMenu.com/buy/41675EB

To view this item on your smartphone:

Click here to buy it!
Click to see all Know Your Bible: All 66 Books items!

Wednesday, August 20:
It is better to be of a lowly spirit with the poor than to divide the spoil with the proud. —Proverbs 16:19
Tuesday, August 19:
Truthful lips endure forever, but a lying tongue is but for a moment. —Proverbs 12:19
Monday, August 18:
"Do not labor for the food that perishes, but for the food that endures to eternal life, which the Son of Man will give to you. For on him God the Father has set his seal." —John 6:27
Sunday, August 17:
"I will not leave you as orphans; I will come to you." —John 14:18
Saturday, August 16:
"The LORD will fight for you, and you have only to be silent." —Exodus 14:14
Friday, August 15:
"Do not lay up for yourselves treasures on earth, where moth and rust destroy and where thieves break in and steal, but lay up for yourselves treasures in heaven, where neither moth nor rust destroys and where thieves do not break in and steal. For where your treasure is, there your heart will be also." —Matthew 6:19-21
Thursday, August 14:
He is the image of the invisible God, the firstborn of all creation. For by him all things were created, in heaven and on earth, visible and invisible, whether thrones or dominions or rulers or authorities--all things were created through him and for him. —Colossians 1:15-16
These scriptures are from the ESV Verse of the Day feed. Subscribe to it using your favorite RSS reader!