Featured Verses This Week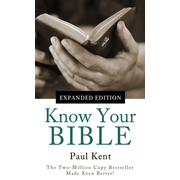 Know Your Bible-Expanded Edition: All 66 Books Books Explained and Applied - eBook
Paul Kent
Know Your Bible-Expanded Edition: All 66 Books Books Explained and Applied - eBook

Retail Price: 2.99
Our Price: 2.39

To buy it, click here:
http://ScriptureMenu.com/buy/41675EB

To view this item on your smartphone:

Click here to buy it!
Click to see all Know Your Bible: All 66 Books items!

Friday, January 30:
"Let all the house of Israel therefore know for certain that God has made him both Lord and Christ, this Jesus whom you crucified." —Acts 2:36
Thursday, January 29:
Through him then let us continually offer up a sacrifice of praise to God, that is, the fruit of lips that acknowledge his name. —Hebrews 13:15
Wednesday, January 28:
He is the LORD our God; his judgments are in all the earth. He remembers his covenant forever, the word that he commanded, for a thousand generations.... —Psalm 105:7-8
Tuesday, January 27:
"You have heard that it was said, 'You shall love your neighbor and hate your enemy.' But I say to you, Love your enemies and pray for those who persecute you, so that you may be sons of your Father who is in heaven. For he makes his sun rise on the evil and on the good, and sends rain on the just and on the unjust." —Matthew 5:43-45
Monday, January 26:
Bear one another's burdens, and so fulfill the law of Christ. —Galatians 6:2
Sunday, January 25:
For the wages of sin is death, but the free gift of God is eternal life in Christ Jesus our Lord. —Romans 6:23
Saturday, January 24:
"For as the rain and the snow come down from heaven and do not return there but water the earth, making it bring forth and sprout, giving seed to the sower and bread to the eater, so shall my word be that goes out from my mouth; it shall not return to me empty, but it shall accomplish that which I purpose, and shall succeed in the thing for which I sent it." —Isaiah 55:10-11
These scriptures are from the ESV Verse of the Day feed. Subscribe to it using your favorite RSS reader!