include_once("ga.php");
Featured Verses This Week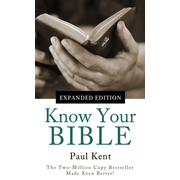 Know Your Bible-Expanded Edition: All 66 Books Books Explained and Applied - eBook
Paul Kent
Know Your Bible-Expanded Edition: All 66 Books Books Explained and Applied - eBook

Retail Price: 2.99
Our Price: 2.39

To buy it, click here:
http://ScriptureMenu.com/buy/41675EB

To view this item on your smartphone:

Click here to buy it!
Click to see all Know Your Bible: All 66 Books items!

Thursday, January 18:
So then, the law was our guardian until Christ came, in order that we might be justified by faith. But now that faith has come, we are no longer under a guardian, for in Christ Jesus you are all sons of God, through faith. —Galatians 3:24-26
Wednesday, January 17:
Better is a poor man who walks in his integrity than a rich man who is crooked in his ways. —Proverbs 28:6
Tuesday, January 16:
Behold, I stand at the door and knock. If anyone hears my voice and opens the door, I will come in to him and eat with him, and he with me. —Revelation 3:20
Monday, January 15:
Beloved, I urge you as sojourners and exiles to abstain from the passions of the flesh, which wage war against your soul. —1 Peter 2:11
Sunday, January 14:
Blessed is the one whose transgression is forgiven, whose sin is covered. Blessed is the man against whom the LORD counts no iniquity, and in whose spirit there is no deceit. —Psalm 32:1-2
Saturday, January 13:
Let the words of my mouth and the meditation of my heart be acceptable in your sight, O LORD, my rock and my redeemer. —Psalm 19:14
Friday, January 12:
"Blessed are the peacemakers, for they shall be called sons of God." —Matthew 5:9
These scriptures are from the ESV Verse of the Day feed. Subscribe to it using your favorite RSS reader!