include_once("ga.php");
Featured Verses This Week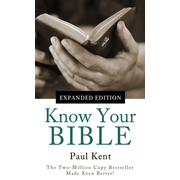 Know Your Bible-Expanded Edition: All 66 Books Books Explained and Applied - eBook
Paul Kent
Know Your Bible-Expanded Edition: All 66 Books Books Explained and Applied - eBook

Retail Price: 2.99
Our Price: 2.39

To buy it, click here:
http://ScriptureMenu.com/buy/41675EB

To view this item on your smartphone:

Click here to buy it!
Click to see all Know Your Bible: All 66 Books items!

Wednesday, June 21:
Let what you heard from the beginning abide in you. If what you heard from the beginning abides in you, then you too will abide in the Son and in the Father. And this is the promise that he made to us--eternal life. —1 John 2:24-25
Tuesday, June 20:
"Thus, when you give to the needy, sound no trumpet before you, as the hypocrites do in the synagogues and in the streets, that they may be praised by others. Truly, I say to you, they have received their reward. But when you give to the needy, do not let your left hand know what your right hand is doing, so that your giving may be in secret. And your Father who sees in secret will reward you." —Matthew 6:2-4
Monday, June 19:
Beware lest you say in your heart, 'My power and the might of my hand have gotten me this wealth.' You shall remember the LORD your God, for it is he who gives you power to get wealth, that he may confirm his covenant that he swore to your fathers, as it is this day. —Deuteronomy 8:17-18
Sunday, June 18:
Good sense makes one slow to anger, and it is his glory to overlook an offense. —Proverbs 19:11
Saturday, June 17:
"Blessed are the poor in spirit, for theirs is the kingdom of heaven." —Matthew 5:3
Friday, June 16:
The LORD is good, a stronghold in the day of trouble; he knows those who take refuge in him. —Nahum 1:7
Thursday, June 15:
Honor the LORD with your wealth and with the firstfruits of all your produce; then your barns will be filled with plenty, and your vats will be bursting with wine. —Proverbs 3:9-10
These scriptures are from the ESV Verse of the Day feed. Subscribe to it using your favorite RSS reader!