Featured Verses This Week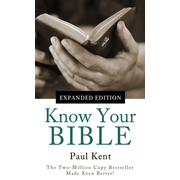 Know Your Bible-Expanded Edition: All 66 Books Books Explained and Applied - eBook
Paul Kent
Know Your Bible-Expanded Edition: All 66 Books Books Explained and Applied - eBook

Retail Price: 2.99
Our Price: 2.39

To buy it, click here:
http://ScriptureMenu.com/buy/41675EB

To view this item on your smartphone:

Click here to buy it!
Click to see all Know Your Bible: All 66 Books items!

Saturday, October 3:
Do not speak evil against one another, brothers. The one who speaks against a brother or judges his brother, speaks evil against the law and judges the law. But if you judge the law, you are not a doer of the law but a judge. There is only one lawgiver and judge, he who is able to save and to destroy. But who are you to judge your neighbor? —James 4:11-12
Friday, October 2:
And let us not grow weary of doing good, for in due season we will reap, if we do not give up. So then, as we have opportunity, let us do good to everyone, and especially to those who are of the household of faith. —Galatians 6:9-10
Thursday, October 1:
For it is God who works in you, both to will and to work for his good pleasure. —Philippians 2:13
Wednesday, September 30:
But the fruit of the Spirit is love, joy, peace, patience, kindness, goodness, faithfulness, gentleness, self-control; against such things there is no law. —Galatians 5:22-23
Tuesday, September 29:
Create in me a clean heart, O God, and renew a right spirit within me. —Psalm 51:10
Monday, September 28:
Whoever pursues righteousness and kindness will find life, righteousness, and honor. —Proverbs 21:21
Sunday, September 27:
Know therefore that the LORD your God is God, the faithful God who keeps covenant and steadfast love with those who love him and keep his commandments, to a thousand generations.... —Deuteronomy 7:9
These scriptures are from the ESV Verse of the Day feed. Subscribe to it using your favorite RSS reader!