include_once("ga.php");
Featured Verses This Week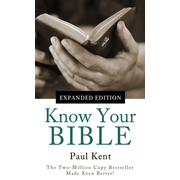 Know Your Bible-Expanded Edition: All 66 Books Books Explained and Applied - eBook
Paul Kent
Know Your Bible-Expanded Edition: All 66 Books Books Explained and Applied - eBook

Retail Price: 2.99
Our Price: 2.39

To buy it, click here:
http://ScriptureMenu.com/buy/41675EB

To view this item on your smartphone:

Click here to buy it!
Click to see all Know Your Bible: All 66 Books items!

Friday, September 23:
"In all things I have shown you that by working hard in this way we must help the weak and remember the words of the Lord Jesus, how he himself said, 'It is more blessed to give than to receive.'" —Acts 20:35
Thursday, September 22:
So flee youthful passions and pursue righteousness, faith, love, and peace, along with those who call on the Lord from a pure heart. —2 Timothy 2:22
Wednesday, September 21:
Your word is a lamp to my feet and a light to my path. —Psalm 119:105
Tuesday, September 20:
For to me to live is Christ, and to die is gain. —Philippians 1:21
Monday, September 19:
I therefore, a prisoner for the Lord, urge you to walk in a manner worthy of the calling to which you have been called, with all humility and gentleness, with patience, bearing with one another in love, eager to maintain the unity of the Spirit in the bond of peace. —Ephesians 4:1-3
Sunday, September 18:
This is the day that the LORD has made; let us rejoice and be glad in it. —Psalm 118:24
Saturday, September 17:
When a man's ways please the LORD, he makes even his enemies to be at peace with him. —Proverbs 16:7
These scriptures are from the ESV Verse of the Day feed. Subscribe to it using your favorite RSS reader!