Featured Verses This Week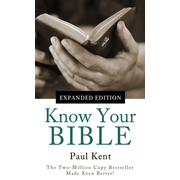 Know Your Bible-Expanded Edition: All 66 Books Books Explained and Applied - eBook
Paul Kent
Know Your Bible-Expanded Edition: All 66 Books Books Explained and Applied - eBook

Retail Price: 2.99
Our Price: 2.39

To buy it, click here:
http://ScriptureMenu.com/buy/41675EB

To view this item on your smartphone:

Click here to buy it!
Click to see all Know Your Bible: All 66 Books items!

Sunday, April 26:
For "All flesh is like grass and all its glory like the flower of grass. The grass withers, and the flower falls, but the word of the Lord remains forever." And this word is the good news that was preached to you. —1 Peter 1:24-25
Saturday, April 25:
For by grace you have been saved through faith. And this is not your own doing; it is the gift of God, not a result of works, so that no one may boast. —Ephesians 2:8-9
Friday, April 24:
The steadfast love of the LORD never ceases; his mercies never come to an end; they are new every morning; great is your faithfulness. —Lamentations 3:22-23
Thursday, April 23:
In my Father's house are many rooms. If it were not so, would I have told you that I go to prepare a place for you? And if I go and prepare a place for you, I will come again and will take you to myself, that where I am you may be also. —John 14:2-3
Wednesday, April 22:
If we confess our sins, he is faithful and just to forgive us our sins and to cleanse us from all unrighteousness. —1 John 1:9
Tuesday, April 21:
A slack hand causes poverty, but the hand of the diligent makes rich. He who gathers in summer is a prudent son, but he who sleeps in harvest is a son who brings shame. —Proverbs 10:4-5
Monday, April 20:
Do nothing from rivalry or conceit, but in humility count others more significant than yourselves. —Philippians 2:3
These scriptures are from the ESV Verse of the Day feed. Subscribe to it using your favorite RSS reader!