include_once("ga.php");
Featured Verses This Week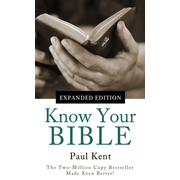 Know Your Bible-Expanded Edition: All 66 Books Books Explained and Applied - eBook
Paul Kent
Know Your Bible-Expanded Edition: All 66 Books Books Explained and Applied - eBook

Retail Price: 2.99
Our Price: 2.39

To buy it, click here:
http://ScriptureMenu.com/buy/41675EB

To view this item on your smartphone:

Click here to buy it!
Click to see all Know Your Bible: All 66 Books items!

Tuesday, May 24:
Commit your work to the LORD, and your plans will be established. —Proverbs 16:3
Monday, May 23:
And my God will supply every need of yours according to his riches in glory in Christ Jesus. —Philippians 4:19
Sunday, May 22:
"Blessed are you when others revile you and persecute you and utter all kinds of evil against you falsely on my account. Rejoice and be glad, for your reward is great in heaven, for so they persecuted the prophets who were before you." —Matthew 5:11-12
Saturday, May 21:
Why are you cast down, O my soul, and why are you in turmoil within me? Hope in God; for I shall again praise him, my salvation and my God. —Psalm 42:11
Friday, May 20:
Jesus Christ is the same yesterday and today and forever. —Hebrews 13:8
Thursday, May 19:
Evening and morning and at noon I utter my complaint and moan, and he hears my voice. —Psalm 55:17
Wednesday, May 18:
Do not love the world or the things in the world. If anyone loves the world, the love of the Father is not in him. For all that is in the world- -the desires of the flesh and the desires of the eyes and pride in possessions--is not from the Father but is from the world. And the world is passing away along with its desires, but whoever does the will of God abides forever. —1 John 2:15-17
These scriptures are from the ESV Verse of the Day feed. Subscribe to it using your favorite RSS reader!