include_once("ga.php");
Featured Verses This Week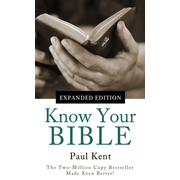 Know Your Bible-Expanded Edition: All 66 Books Books Explained and Applied - eBook
Paul Kent
Know Your Bible-Expanded Edition: All 66 Books Books Explained and Applied - eBook

Retail Price: 2.99
Our Price: 2.39

To buy it, click here:
http://ScriptureMenu.com/buy/41675EB

To view this item on your smartphone:

Click here to buy it!
Click to see all Know Your Bible: All 66 Books items!

Tuesday, July 26:
"You are the light of the world. A city set on a hill cannot be hidden. Nor do people light a lamp and put it under a basket, but on a stand, and it gives light to all in the house. In the same way, let your light shine before others, so that they may see your good works and give glory to your Father who is in heaven." —Matthew 5:14-16
Monday, July 25:
And let the peace of Christ rule in your hearts, to which indeed you were called in one body. And be thankful. —Colossians 3:15
Sunday, July 24:
"For the Son of Man came to seek and to save the lost." —Luke 19:10
Saturday, July 23:
Then Peter came up and said to him, "Lord, how often will my brother sin against me, and I forgive him? As many as seven times?" Jesus said to him, "I do not say to you seven times, but seventy times seven." —Matthew 18:21-22
Friday, July 22:
But when the goodness and loving kindness of God our Savior appeared, he saved us, not because of works done by us in righteousness, but according to his own mercy, by the washing of regeneration and renewal of the Holy Spirit, whom he poured out on us richly through Jesus Christ our Savior, so that being justified by his grace we might become heirs according to the hope of eternal life. —Titus 3:4-7
Thursday, July 21:
So flee youthful passions and pursue righteousness, faith, love, and peace, along with those who call on the Lord from a pure heart. —2 Timothy 2:22
Wednesday, July 20:
"Blessed are the merciful, for they shall receive mercy." —Matthew 5:7
These scriptures are from the ESV Verse of the Day feed. Subscribe to it using your favorite RSS reader!