include_once("ga.php");
Featured Verses This Week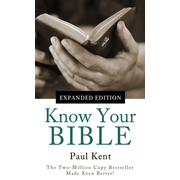 Know Your Bible-Expanded Edition: All 66 Books Books Explained and Applied - eBook
Paul Kent
Know Your Bible-Expanded Edition: All 66 Books Books Explained and Applied - eBook

Retail Price: 2.99
Our Price: 2.39

To buy it, click here:
http://ScriptureMenu.com/buy/41675EB

To view this item on your smartphone:

Click here to buy it!
Click to see all Know Your Bible: All 66 Books items!

Sunday, September 24:
Contribute to the needs of the saints and seek to show hospitality. —Romans 12:13
Saturday, September 23:
Better is the end of a thing than its beginning, and the patient in spirit is better than the proud in spirit. —Ecclesiastes 7:8
Friday, September 22:
For my thoughts are not your thoughts, neither are your ways my ways, declares the LORD. For as the heavens are higher than the earth, so are my ways higher than your ways and my thoughts than your thoughts. —Isaiah 55:8-9
Thursday, September 21:
To you, O LORD, I call; my rock, be not deaf to me, lest, if you be silent to me, I become like those who go down to the pit. Hear the voice of my pleas for mercy, when I cry to you for help, when I lift up my hands toward your most holy sanctuary. —Psalm 28:1-2
Wednesday, September 20:
Delight yourself in the LORD, and he will give you the desires of your heart. —Psalm 37:4
Tuesday, September 19:
Cast your burden on the LORD, and he will sustain you; he will never permit the righteous to be moved. —Psalm 55:22
Monday, September 18:
Beloved, let us love one another, for love is from God, and whoever loves has been born of God and knows God. Anyone who does not love does not know God, because God is love. —1 John 4:7-8
These scriptures are from the ESV Verse of the Day feed. Subscribe to it using your favorite RSS reader!