include_once("ga.php");
Featured Verses This Week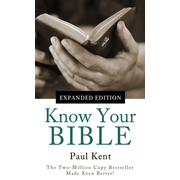 Know Your Bible-Expanded Edition: All 66 Books Books Explained and Applied - eBook
Paul Kent
Know Your Bible-Expanded Edition: All 66 Books Books Explained and Applied - eBook

Retail Price: 2.99
Our Price: 2.39

To buy it, click here:
http://ScriptureMenu.com/buy/41675EB

To view this item on your smartphone:

Click here to buy it!
Click to see all Know Your Bible: All 66 Books items!

Friday, February 23:
But we have this treasure in jars of clay, to show that the surpassing power belongs to God and not to us. We are afflicted in every way, but not crushed; perplexed, but not driven to despair; persecuted, but not forsaken; struck down, but not destroyed; always carrying in the body the death of Jesus, so that the life of Jesus may also be manifested in our bodies. —2 Corinthians 4:7-10
Thursday, February 22:
Jesus said to them, "I am the bread of life; whoever comes to me shall not hunger, and whoever believes in me shall never thirst." —John 6:35
Wednesday, February 21:
Consecrate yourselves, therefore, and be holy, for I am the LORD your God. Keep my statutes and do them; I am the LORD who sanctifies you. —Leviticus 20:7-8
Tuesday, February 20:
Let us hold fast the confession of our hope without wavering, for he who promised is faithful. —Hebrews 10:23
Monday, February 19:
"Worthy are you, our Lord and God, to receive glory and honor and power, for you created all things, and by your will they existed and were created." —Revelation 4:11
Sunday, February 18:
"I am the Alpha and the Omega," says the Lord God, "who is and who was and who is to come, the Almighty." —Revelation 1:8
Saturday, February 17:
But God shows his love for us in that while we were still sinners, Christ died for us. —Romans 5:8
These scriptures are from the ESV Verse of the Day feed. Subscribe to it using your favorite RSS reader!