30 Day Reading Plans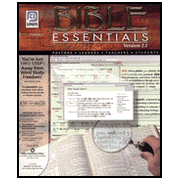 Bible Essentials 2.1 on CD-ROM
Now updated! Improved menu and search functions, along with outstanding study tools make this must-have program a great addition to your software library.

All the 'essentials' for inductive Bible study are at your finger tips including research on Bible languages, along with insightful helps for those preparing for Sunday School, Bible study, and small group lessons. Current Logos users will benefit from these tools as they will seamlessly integrate with your existing electronic library.

This is not just another collection of books, it is a complete study system. It is a unique combination of titles that are all part of a system of study that will take you deep into the Word.

The Complete WordStudy KJV is a King James Version Bible text made by combining the text of the Complete WordStudy OT and Complete WordStudy NT. Every Hebrew and Greek word is represented in the English text by a Strong's Dictionary number and/or grammatical code. The grammatical codes link to the grammatical notations which explain the syntax of the original language word. Strong's numbers on the NT text link to the matching entry of the Complete WordStudy Dictionary: NT.
Documents with additional items have additional indexes; for example, Spiros Zodhiates' Complete WordStudy KJV document has indexes for Keywords, OT Strong's numbers, NT Strong's numbers, Hebrew grammatical codes, Aramaic grammatical codes, and Greek grammatical codes.

Electronic Books Included:
Complete Word Study Bible (KJV)
Complete Word Study Dictionary: New Testament
Complete Word Study Dictionary: Old Testament
Complete Word Study Concordance: Old Testament
New American Standard Bible text with text notes (95 Update)
Scripture Reference Index to Dictionary
Greek New Testament (Nestle-Aland 27th edition)
4,000 Bible Illustrations
Christ in the Old Testament
Men & Women of the Old Testament (by C. H. Spurgeon)
Men & Women of the New Testament (by C. H. Spurgeon)
New Testament Sermon Starters Books 1-4 (by Spiros Zodhiates)
Commentary by Dr. Spiros Zodhiates on the Book of James
Sermons for All Seasons by Alexander Maclaren
Strong's Dictionaries of Old & New Testament words
Retail Price:
99.99
Our Price: 54.99

To buy it, click here:
http://ScriptureMenu.com/buy/77263

To view this item on your smartphone:

Click here to buy it!
Click to see all Bible Software items!
READING EVERY DAY
To read for the next 30 days starting with today as day 1, bookmark
this link
.
Day 16 of 30: Read the whole New Testament
Today's Scripture Passage:

Day 16 of 30: New Testament Overview
Today's Scripture Passage:

---
READING EVERY WEEKDAY
(taking the weekends off)
To read for the next 30 days starting with Monday of this week as day 1, bookmark
this link
.
Day 28 of 30: Read the whole New Testament
Today's Scripture Passage:

Day 28 of 30: New Testament Overview
Today's Scripture Passage: