Contact Us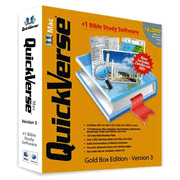 QuickVerse Mac Gold Box 3.0 on CD-ROM
QuickVerse Mac has been created from the ground up to be a truly universal and native OS-X application. Extremely easy to use, the 3.0 edition provides distinctively Mac features to anyone interested in Bible reading and Bible study, sermon preparation, or teaching. Designed for both casual readers and serious Bible scholars, Mac users will discover QuickVerse Mac 3.0 to be the most intuitive, Mac-friendly Bible study software on the market today!
Retail Price:
349.95
Our Price: 174.99

To buy it, click here:
http://ScriptureMenu.com/buy/644625

To view this item on your smartphone:

Click here to buy it!
Click to see all Bible Software items!
To recommend a verse or topic, suggest a change in the existing Scriptures or topics, or just generally make contact, send an email to .