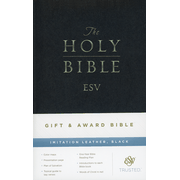 ESV Gift and Award Bible Imitation Leather, Black
With its affordable price and long list of helpful features, the ESV Gift & Award Bible is the perfect gift for any special occasion and a Bible to cherish for years to come.

It includes:
Presentation page
Plan of Salvation
Introductions to each Bible book
Topical guides to key vereses
Color maps
'What the Bible Is All About'
One-year Bible-reading plan
Words of Christ in red
Retail Price:
9.99
Our Price: 7.99

To buy it, click here:
http://ScriptureMenu.com/buy/343755

To view this item on your smartphone:

Click here to buy it!
Click to see all ESV Gift and Award Bible items!
Entrée: Verses About Mind
Romans 12:2
Click

next to Bible references to open
Logos Bible Software Series X
directly to the passage.
Learn more
about linking directly to Logos and find other web sites that support integrated Bible study.