Books of the Bible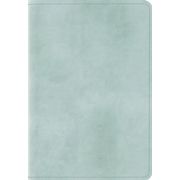 ESV Pocket New Testament with Psalms and Proverbs--soft leather-look, blue
The ESV Pocket New Testament with Psalms and Proverbs is a highly portable edition ideal for a number of uses. It features a new typesetting that utilizes line-matching, making the Bible text substantially easier to read.
Features
Single-column, paragraph format
Words of Jesus in red
Silver page edges
Ribbon marker
Presentation page
7-point text size
5.75' x 4.00' x 0.75'
Retail Price:
17.99
Our Price: 11.99

To buy it, click here:
http://ScriptureMenu.com/buy/541483

To view this item on your smartphone:

Click here to buy it!
Click to see all ESV Pocket New Testament items!
Old Testament
Genesis
Exodus
Leviticus
Numbers
Deuteronomy
Joshua
Judges
Ruth
1 Samuel
2 Samuel
1 Kings
2 Kings
1 Chronicles
2 Chronicles
Ezra
Nehemiah
Esther
Job
Psalms
Proverbs

Ecclesiastes
Song of Solomon
Isaiah
Jeremiah
Lamentations
Ezekiel
Daniel
Hosea
Joel
Amos
Obadiah
Jonah
Micah
Nahum
Habakkuk
Zephaniah
Haggai
Zechariah
Malachi

New Testament
Matthew
Mark
Luke
John
Acts
Romans
1 Corinthians
2 Corinthians
Galatians
Ephesians
Philippians
Colossians
1 Thessalonians
2 Thessalonians

1 Timothy
2 Timothy
Titus
Philemon
Hebrews
James
1 Peter
2 Peter
1 John
2 John
3 John
Jude
Revelation